Hanuman Avataar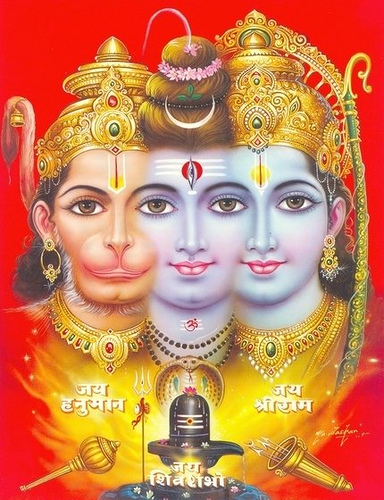 Shiva, like some other Hindu deities, is said to have several incarnations, known as Avatars. AlthoughPuranic scriptures contain occasional references to avatars of Shiva, the idea is not universally accepted in Saivism.
· Adi Shankara, the 8th-century philosopher of non-dualist Vedanta"Advaita Vedanta", was named "Shankara" after Lord Shiva and is considered by some to have been an incarnation of Shiva.
· In the Hanuman Chalisa, Hanuman is identified as the eleventh avatar of Shiva, but this belief is not universal.
· Virabhadra who was born when Shiva grabbed a lock of his matted hair and dashed it to the ground. Virabhadra then destroyed Daksha's yajna (fire sacrifice) and severed his head as per Shiva's instructions.
पवन तनय बल पवन समाना
बुद्धि विवेक विज्ञान निधाना |
कवन् सो काज कठिन जग माही
जो नहि होय तात तुम्ह पाहीं ||
You are as powerful as the wind (Hanumanji was the son of Pawan, God of wind);
You are intelligent, illustrious & an inventor.
There is nothing in this world that's too difficult for you;
Whenever stuck, you are the one who can help.